Schönbrunn Palace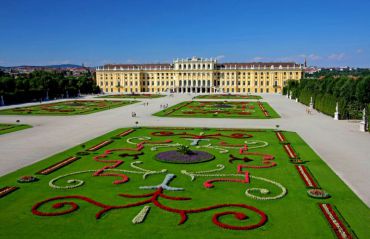 The spirit of Baroque and Rococo can be noted by you in Schönbrunn, a beautiful palace located in Vienna in the district of Hietzing. The palace used to be the summer residence of Habsburg monarchs.
In the 14th century, at the site of the present palace there was an estate called Katterburg, which belonged to the monastery. A stable, a watermill and a garden were located on its territory. Later these lands went into the possession of the Habsburgs. According to the legend, Emperor Mathias discovered springs on the territory of the estate in the early 17th century. These extraordinary beautiful springs gave the palace its name Schönbrunn, from German Schöne Brunnen – beautiful springs.
Schönbrunn Palace was built between 1696 and 1713. The main architect of the residence – Johann Bernhard Fischer von Erlach – was inspired by the Palace of Versailles. Later Schönbrunn went to Archduchess Maria Theresa, who turned the residence into the centre of court and political life. It became the official royal residence. At that time, beautiful palace gardens were laid out.
Today, Schönbrunn Palace is one of the most beautiful architectural sites in the style of Baroque. The luxury of its interior is impressive. Great Gallery of 40 metres long and 10 metres wide is of particular interest. It was designed for ceremonial receptions and luxurious balls. Gold, frescos of famous artists, as well as Bohemian crystal chandeliers were used in the interior's decoration. Next to the Great Gallery you can see Small Gallery designed for lunch receptions and concerts.
The Hall of Mirrors is especially beautiful and interesting. During the reign of Maria Theresa, Austrian ministers owed allegiance there; next to the bronze clock at the altar of the Virgin Mary the great composer Wolfgang Amadeus Mozart once played. The room is notable for its decorations, including floor vases from Asia, and wall paintings depicting landscapes of Europe. The museum of coaches and carriages is worth a visit. You can see there items of the 17th century. The Imperial Garden completes the beauty of Schönbrunn. On its territory you will notice numerous statues and fountains, a pavilion with a colonnade and a zoo built in 1752. Schönbrunn Palace and its park were included in the list of UNESCO World Heritage Sites.
Palace can be reached by the green U-Bahn line U4. You should get off at Schönbrunn Station.