The Golden Roof Museum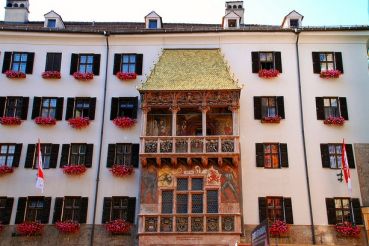 Museum "Golden Roof" is in the central part of the city of Innsbruck. This building was built in the early 14th century on the initiative of the Emperor Maximilian I.
This building is perfectly preserved to the present day. Its Gothic façade in typical architectural style of the Middle Ages. The interiors had attracted the attention of the rich decoration. A distinctive feature of the structures are large passages arcades and beautiful cloisters. Museum exhibits tell about the life of one of the most influential and colorful personalities of Europe at the time - the Emperor Maximilian. The spacious rooms you can see the monarch's personal belongings, many different household items, documents, jewelry and other things of that distant era.
Get to the museum "Golden Roof" can be on any public transport passing through the old part of town.